Chad Staples, Director of Life Sciences has marked 20+ years here at Featherdale.
With a passion for all creatures great and small, Staples started working at the Park as an entry-level Zoo keeper in February 1997, just after leaving Muirfield High School.
Fast accumulating knowledge on all the areas of operation and all species residing in the Park, Staples was promoted to managing our Education Department. In this role, he was responsible for keeper presentations, public education programs and also working closely with television networks and crews who came into the park to film wildlife shows such as 'Totally Wild', which aired on Channel Ten.
After five years, Staples again progressed and he moved into the Curatorial Department from which he then advanced to become General Curator of the park.
20 years later and with extensive experience under his belt, Staples is now Featherdale's Director of Life Sciences overseeing the whole species collection, all zoo keeper staff (of which there are 40 staff over 10 departments), all the areas in the park including aviaries and enclosures, education, training and conditioning as well as the day to day medical care of the species collection.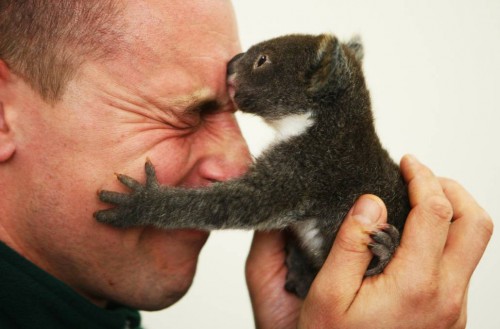 He also manages the movement of animals outside the Park which takes critical planning. The Featherdale family is often found out and about in the local community bringing smiles and education to local school children through the Wildlife Wanderer mobile education program or to seniors in nearby retirement communities.
Staples and his team are also often rubbing shoulders with celebrities from the local Sydney Blue Sox baseball team or international visitors such as Rafael Nadal.
In his role, Staples travels internationally visiting other important collections found at places such the San Diego Zoo, Columbus Zoo in Ohio, which keeps Tiger Quolls, and the Bronx Zoo in New York City. These visits constantly ensure discussions are taking place globally around the future of our planet's important species. Staples also instigates visits by global researchers and ambassadors to Featherdale to further the education of his local team.
In 2014, Steve Martin, renowned animal and bird behaviour trainer from the USA, visited Australia as a result of Staples' invitation and trained over 60 keepers. A follow up visit is currently being organised as well as new ambassador visits from Zurich Zoo and Berlin Zoo.
Staples also implemented a volunteer program, which he started in 2008. There are approximately 30 volunteers working at the park who are studying Captive Animal Studies at NSW TAFE.
His focus ensures that Featherdale Wildlife Park is one of the most diverse and successful parks in the country and has the world's largest collection of Australian native animals.
Over his 20 years working at Featherdale Wildlife Park, Staples' career highlights have included:
Raising Archer the koala
Archer had a tough start to life after his mother sadly abandoned him. Staples stepped in and provided a human care pouch for the cute little marsupial and for the first few weeks got out of bed three times a night to bottle-feed him. Archer was then introduced to the Koala Sanctuary at Featherdale and has become the face of the park's individual animal sponsorship program. Interest in him as been so strong he has his own public profile on social media and was also voted 'Australia's Cutest Animal'. Archer has appeared on television on numerous occasions
Conservation & Education 
Staples' dedication and passion for the conservation of, and education around, Australian native species is unrelenting and this is evident through how many species are now at the park. From the Yellow Footed Rock Wallaby to the Tasmanian Devil, from quolls to quokkas, cockatoos to honeyeaters and from wombats to koalas, the number of species has grown with over 1,700 animals in the park now including over 280 species.
Featherdale also co-operates with government and non-government wildlife organisations in long term management programs for endangered species. A good example of this is where Staples and the Park's keepers recently worked closely with the Nature Conservation Working Group of the Murray Catchment Area to release endangered Bush Stone Curlews back into the wild.
Partnership with GE Health
In 2013 Chad was instrumental in securing a partnership with GE Health, which resulted in the donation of a state-of-the-art diagnostic ultrasound machine. This machine, often also used by other zoos such as Taronga, helps to identify fertility and breeding availability as well as injuries and illness. It is used across the species but often for the koala community with females being scanned to check fertility and pregnancy. There are currently over 40 koalas at Featherdale and in its' 43 years of operation, the Park has successfully bred over 210 koalas.
He is often requested now to appear on national media and has his own highly successful Zookeeper Chad Facebook page at www.facebook.com/zookeeperchad